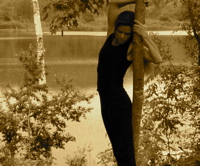 Kimerer LaMothe is one of those people who makes you rethink what is possible in your life. By living in a way that constantly expands her reach in every realm, and consistently stretching the limits of personal freedom, she is creating a body of work that will show how we all can live in love.
 
Kimerer believes that the sources of our freedom and creativity, our compassion and insight, our health and well being, lie in the conscious practice of bodily movement.
An early intuition about the value of movement propelled her along a serpentine path toward developing the concepts and practices to support it. She studied various forms of yoga and dance (classical, modern, Indian, Hatian) in search of techniques and patterns of movement that honor and access what our bodies can know.
She delved deeply into the philosophy and theology of modern western civilization seeking to discover the roots of our cultural antipathy to bodies and dancing. She earned a masters degree in Christianity and Culture from Harvard Divinity School and a PhD. in Theology of the Modern West from Harvard University.
Along the way, she kept an eye out for thinkers, artists, and spiritual teachers who do value bodily movement as a medium of religious experience and as a resource for thinking creatively about who we humans are, can be, and should be. She developed this perspective through her college courses, scholarly books, journal articles, conference presentations as well as in the choreography and performance of original dances.
After fifteen years as a student, research fellow, and lecturer at Harvard, she realized it would be necessary for her to leave academic life in order to advance her work further. She needed to create a way of living that would enable her to generate alternatives to the mind-over-body models of human being that dominate our society.
Now, her life on the farm, dancing and writing, surrounded by her growing children, is providing her with the opportunities and experiences she needs in order to work out her account of why movement matters.
The first book in a forthcoming series of three is What a Body Knows: Finding Wisdom in Desire. In it, Kimerer discerns the healing wisdom in the movements of our desires for food, sex, and spirit. In February 2009, she celebrated the imminent release of What a Body Knows by performing her original dance Genesis while six month's pregnant with her fifth child.
A second book, Family Planting: A farm-fed philosophy of human relations (2011), makes the case for why we, as moving bodies, are born to live in love. Through vivid stories of life on the farm, it reveals the concrete ways in which our physical relationships with caregivers, partners, and progeny teach us how.
Kimerer is currently awaiting publication of the third book in the series, Why We Dance: A Philosophy of Bodily Becoming (Columbia University Press, March 31, 2015). This book makes the case for why and how dance is a vital art.
Kimerer frequently gives lectures, book talks, movement workshops, and performances. To inquire about booking her for your institution or event, email here.


















Dancer Writer Mother Philosopher

Publications in print

Scholarly journals and more

Feedback from the field

Downloads and links

The ongoing unfolding

Quick link to the Vital Arts store

Quick link to the dance page